---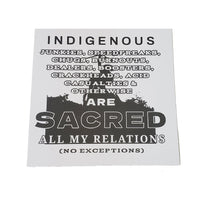 Risographed art print by T.J. Felix. Limited to 100 copies. 1 colour. 8 x 8".
All profits will go towards supporting the work of DULF's Indigenous Advisory Committee.
---
TJ Felix is a homesick Qelmucw from Splatsin that is currently paying rent on the stolen lands of the Squamish, Musqueam & Tsleil-Waututh peoples. When they aren't busy making art they can be found writing and recording music in their bedroom, committing petty crimes, drinking with friends (or strangers), advocating for the rights of illicit substance users, or maniacally committing themselves to whatever they're fixated on at the moment.
https://instagram.com/radically.powerless.injun

https://tjfelix.bandcamp.com/